by Captain Marty Papke
There comes a time of the year when it's time to put away the boat and soon tackle a new adventure. Ice angling is and can be a very productive time for fishing and more and more every year angler's are becoming all season angler's!

Many inland lakes of northern Wisconsin offer some great "early-ice" walleye's along with some great panfishing and northern pike action. Let's look at a typical setup and how you to can catch early "ice-eye's." Examine the fishing locations you've just finished open-water fishing as this can be key in finding fish through the ice also. Let's examine several early season methods and see how easy the results can be.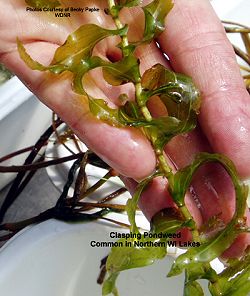 Tip-ups and live-bait: if there's an early season method that if clinical tested would usually work day in and day out during early ice it's setting up in areas using live-bait. Throughout the Midwest we can pretty much surmise patterns where early ice "eye's" can be found, it's where they were just prior to ice-up. The greenest weedbeds, shallow reefs and river inlets and outlets and any occurring edges are all good regions to finding "ice-eye's." It's important to connect this pattern with areas that hold good concentrations of baitfish.
Start shallow, 3 to 4 feet of water is a good start and working out and across to deeper waters. Weedbeds are still green in certain areas especially cabbage weeds are excellent baitfish holders where walleye's follow. Experiment with several ice holes shallow and work to deeper waters until you reach the edge. Using the new Polar Vision depth finder from StrikeMaster allows us to check bottom depths by simply touching the early ice with it's head and gives us accurate depths, try it!
Something really common in many Northern Wisconsin early ice lakes are that lots of lakes are in that 300 to 500 acre size, concentrating on small bay areas and flats always are most productive.
Equipment setup from start to finish , when using tip-ups I've been using the Frabill's Pro-Thermal Tip-Up and hears why? Frabill's design covers the entire ice hole and light penetration seems to be minimal resulting in good all day bites, secondly Frabill keeps the ice hole free of ice and I think with early ice especially noise of chipping a tip-up free can at times alert other fish nearby. Spooling with a dacron line like a braid keeps from freezing and by adding a leader of 8 or 10 pound XL line your ready. The business end a Fire-Eye Attractor live bait hook (red is a good color start) with a dorsal fin hooked golden shiner or sucker minnow 3 to 5 inches long its fish catching time. Keeping minnows lively all day is really easy using the Frabill Personal Bait Station, it holds a couple dozen well and is aerated. Guides tip: try one of Northland Tackles, Buck Shot Rattle Beads. Sliding one of these beads on the line not only gives additional color but floats your minnow off the bottom and the minnows activity makes the noise from the rattle.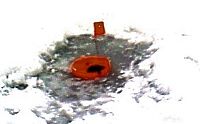 Once baited try and keep the minnow close or near the bottom structure, when fishing over the weeds make sure minnows stay free and untangled from the vegetation. If hang ups occur raise your settings. Checking lines frequently at times keeps the minnows more active. The out-cry, Tip-Up! keys the angler to proceed to the tip-up with somewhat a gentlemanly way (usually it's a race) and give the fish a little time to take the bait and proceed with a line sweeping hook set followed with a hand-over-hand retreiving the fish to the ice hole.
Top "picks" for Northern Wisconsin lakes; Big and Little Arbor Vitae's, Muskullenge, Hasbrook along with Lake Tomahawk, Rainbow Flwage and the Minocqua Chain. Spend time fishing water depths of 4 to 15 feet and work the weedbed edges of still green cabbage and coontail that still hold baitfish and walleye's. Top fishing methods and jigging and tip-ups should pretty well cover all bases.
Remember early ice and use common sense. Check out our Ice Fishing Trips! Let's Teach the kids fishing fun! For more information about our ice-fishing charters call us at: 800-708-2347 or check out our fishing reports combining both Northern Wisconsin and Little Bay de Noc at: http://www.littlebaydenoc.com
Captain Marty Papke